Or Haneshamah - Ottawa's Reconstructionist Community
What Does it Mean to Become a Jewish Adult?
What does it mean to become a Jewish Adult? How do we go about it?
Tweens with their families, and families of all ages, are invited to come explore adulthood with Machaneh Shabbat this Saturday, December 10th, 9:45 am - 12:45 pm. The program will explore what it means to become a Jewish adult (which happens without ceremony - just by having a birthday). We will look at questions of ages and stages that we think are appropriate to have certain responsibilities, privileges and abilities and what Judaism has to say, as well as the question of obligations of adulthood - secular and Jewish alike. While the kids have the chance to create miniatures - miniature Torahs, arks, sanctuaries etc. and get hands on with the synagogue items by doing so – Rabbi Liz will be available to chat with adults and any youngsters interested about all things coming of age, including bar and bat mitzvah.
To RSVP and for more information contact our OrH educator Eliyanah at educator@orh.ca
The Arrival of Our New Sefer Torah!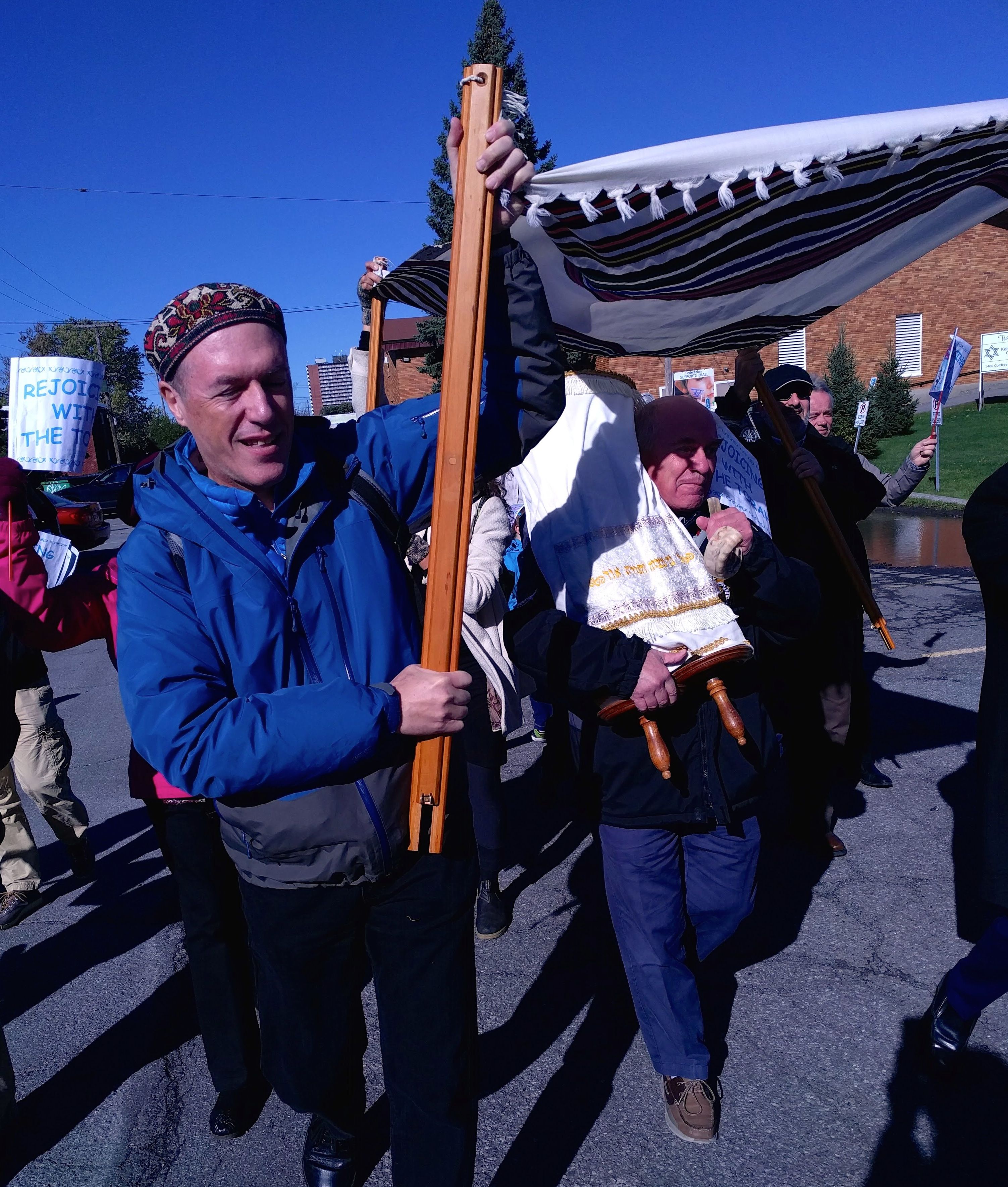 On Sunday, October 23, 2016 Or Haneshamah marked a very special Simchat Torah: the congregation celebrated the arrival of a new Sefer Torah – a remarkable and generous gift from Congregation Kehillat Beth Israel. A Hachnasat Sefer Torah dedication ceremony took place on October 23rd, beginning at KBI, where the Torah was presented, followed by a parade to its new home at OrH.
The current OrH Sefer Torah, which is nearly 100 years old, was personally acquired in 1995 by OrH (then the Ottawa Reconstructionist Havurah) founders Walter and Teena Hendelman. We were extremely honoured that the Hendelmans were able to participate in the Hachnasat Sefer Torah ceremony, bringing out our current Torah to "greet" the new one upon arrival.
Read more about our "new Torah," our "old Torah," and the Hachnasat Sefer Torah event here
From the Rabbi - Words of the Spirit
In the Best of Times
15/11/16 08:04:41 PM
In the best of times, and when I am at my best, I live in the moment.
This doesn't mean I do not look ahead. I make plans, I anticipate needs, and I look forward to special events.
But when I'm living in the moment, all sorts of things become clear.
My sense of smell, and balance, my capacity to withstand others' complaints, the ways in which I can pivot in place, they are all finely honed and less muted.
A few weeks back, I spent a week with my sister in hospital after she underwent surgery. Even though I was acutely aware that somewhere else lived my son, my cat, my housemate, my work, and the build up to the American election, I did very little but be there. Nobody would instinctively say that the environment lends itself to being dubbed a locale for "good" time; yet we can, there, be at our best.
This isn't an actual analogy for this political moment. The snapshot does, though, offer a small insight into how we can both be very much engaged in our daily lives in our apparent separate political reality in Canada, while feeling very connected to the pending radically authoritarian transformation in the United States. We are – certainly I am – not exempt from responsibility to engage, and to act, as we behold what is unfolding. There are no borders when it comes to the unleashing of tyranny.
Queen Esther, living incognito in the palace, does not wish to confront King Achashverosh, afraid to reveal that she is connected to the oppressed people whom he plans to slaughter. She is told: perhaps it was for this very moment, in this very time and place, that you have come to this kingdom.
This is all our moment. We are all connected. We Jews must be willing and able to say: we are/we are with the poor, the disabled, the queer, the Muslims, the workers, all women, all who are targeted for their race, their status, their origins.
"Evil settles into everyday life when people are unable or unwilling to recognize it. It makes its home among us when we are keen to minimize it or describe it as something else."*
Let us be willing.
-Rabbi Liz
*Teju Cole, http://www.nytimes.com/2016/11/11/magazine/a-time-for-refusal.html
Mon, 5 December 2016 5 Kislev 5777